They're baaack
Harry Houdini and Sen. Arthur Capper of Kansas discussing fortune tellers? It happened.
Hear the whole story and more tales of mystery, murder and mayhem during the return of Ghost Tours at Historic Topeka Cemetery.
Just days after the death of his wife, Sen. Capper was embroiled in hearings over a proposed ban on fortune telling in the District of Columbia. On one side was famed escape artist and illusionist Houdini and on the other was a contingent of mediums and Spiritualists that Houdini claimed were all frauds. One prominent medium claimed Capper among her clients.
Also on this year's circuit of stories is Edna Dinsmore, 9-year-old murder victim; the mysterious disappearance of Alice Safford and a surprising number of others; hauntings at the County Poor Farm; and more tales of mystery murder and mayhem.
Dates: Friday, Oct. 13, and Saturday, Oct. 14
Times: First group begins through at 6:30 p.m. Last tour begins at 9 p.m. Guests move in small groups to each story site on a continuous circuit, so you can start any time between those hours.
Cost: $10 per person, payable at the site. Cash and Venmo accepted. Bring some extra for your souvenir "I Survived" T-shirt or sweatshirt.
Note: This is not a haunted house, and the stories are not suitable for young children.
Guides will lead groups, but you may bring a flashlight or borrow one of ours.
You may use paranormal detection gear during the tour as long as you don't interfere with stories or other guests' enjoyment.
Enter only from the main gate at SE Leland and 10th Avenue. The California gate will be closed.
Cemetery roads are narrow, so please park only on the right hand side so other guests can get out. Signs will point the way in and out.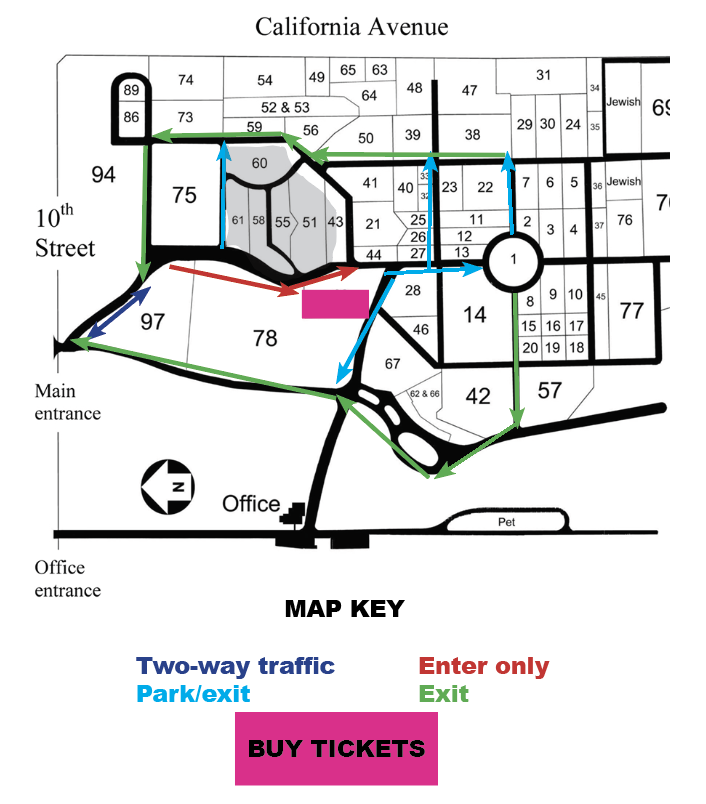 ---

A very special place
Historic Topeka Cemetery is a setting unlike any other in Topeka. The grounds offer an eternal view for those who shaped Topeka and Kansas from territorial days into the 21st century. The city skyline, with the Statehouse standing prominently in the center, can be seen from nearly every part of Topeka Cemetery.
On a rolling hillside east of downtown, Topeka Cemetery is an outdoor museum of stunning monuments that help tell the stories of the more than 35,000 people in our care.
We encourage you to visit, to take a stroll among the names familiar to you from street signs and businesses, and from family and friends, to reflect on the beauty of this spot and the lives of those who came before you.
READ MORE
---
Finding your loved ones
Topeka Cemetery has 80 acres that stretch from SE 10th Avenue to Interstate 70 and from Lafayette Street to California Avenue. Finding family members among the 35,000 souls who rest here can be a challenge.
Whether on your first visit or your 10th, it can sometimes be difficult to get to the right spot.
Enter Walk-to-Site. You can use your smart phone to guide you. Start by clicking on Search Records. Enter the name of the person you wish to find. On some phones, you may need to move the screen left to find the place to enter the last name.
If the person you seek doesn't come up first, hit the "Next" button. That will scroll through the names that are similar.
If you get no results, try a different spelling or use just a first initial on the first name.
The large map will show you where you need to be, so you can drive to the general area before beginning your walk.
Please keep in mind that not every grave has a headstone. If you find no memorial, Topeka Cemetery is happy to assist you in finding the perfect tribute to your loved one.
More instruction is available on YouTube.
---
Raising headstones
The earth is always moving. Ground freezes and thaws over and over as the years go by. Because of this, flat flush ground markers sink.
Families are welcome to raise their own markers. You just need a shovel and a bucket of dirt. Adding gravel directly under the stone will slow future sinking, since it will help drain water away and keep the ground more dry.
If you would like to enlist Topeka Cemetery's help with raising a flat headstone, a donation is requested, $25 for a single and $35 for a double. You can find a link to the donation page HERE.
The cemetery staff also can clean monuments and straighten and level upright stones. Please call the office at 785-233-4132; charges are specific to the work that needs to be done.
---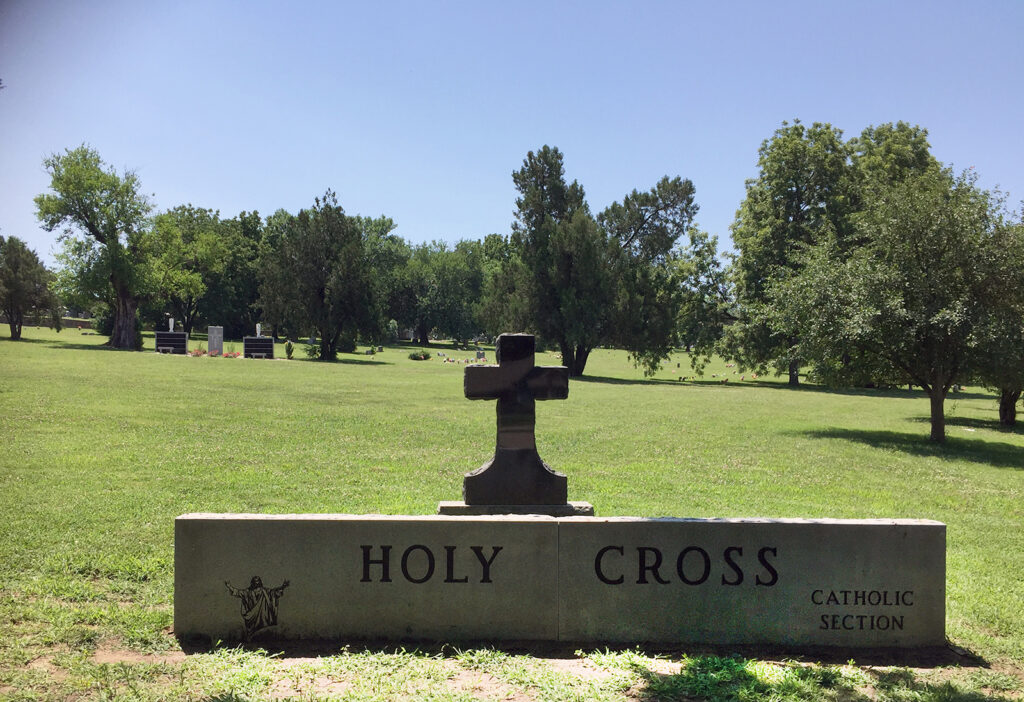 Catholic section open
Historic Topeka Cemetery has added an area for people who wish to be buried in a consecrated Catholic section.
The Holy Cross Catholic Section was blessed by Father Thomas Aduri in June. The section is just inside the main entrance to Topeka Cemetery on 10th Avenue. It features a gentle slope, and on the south side of the section is a landscaped area with two columbaria for inurnment of ashes.
People of all faiths are buried in Topeka Cemetery, but there had never had a dedicated area for people of the Catholic faith.
The Jewish Cemetery, which opened in 1874 on the south edge of Topeka Cemetery, is now surrounded by Topeka Cemetery, which serves as broker for Temple Beth Sholom. One of the local Lutheran churches purchased most of a section 80 years ago to provide spaces for parishioners. The Islamic Center of Topeka has part of another section.
Fraternal associations and other membership groups also have tracts in Topeka Cemetery. The Masonic Lodge owns most of Section 8 – city founder Cyrus K. Holliday has the rest. The Oddfellows, the Ingleside home, the printers' union and the Episcopal Diocese are a few of the others that purchased multiple lots for members' use.
Holy Cross has space for more than 1,100 ground burials along with 96 niches for ashes in the two columbaria. The cost for spaces is the same as elsewhere in Topeka Cemetery — $950 each. Family lots are available, as are single graves. Monuments are allowed.
Any family that already owns spaces in Topeka Cemetery may transfer to the Catholic section. The $45 fee for the paperwork will be waived through 2023.
Please call the office, (785) 233-4132, for more information and to arrange a tour.
---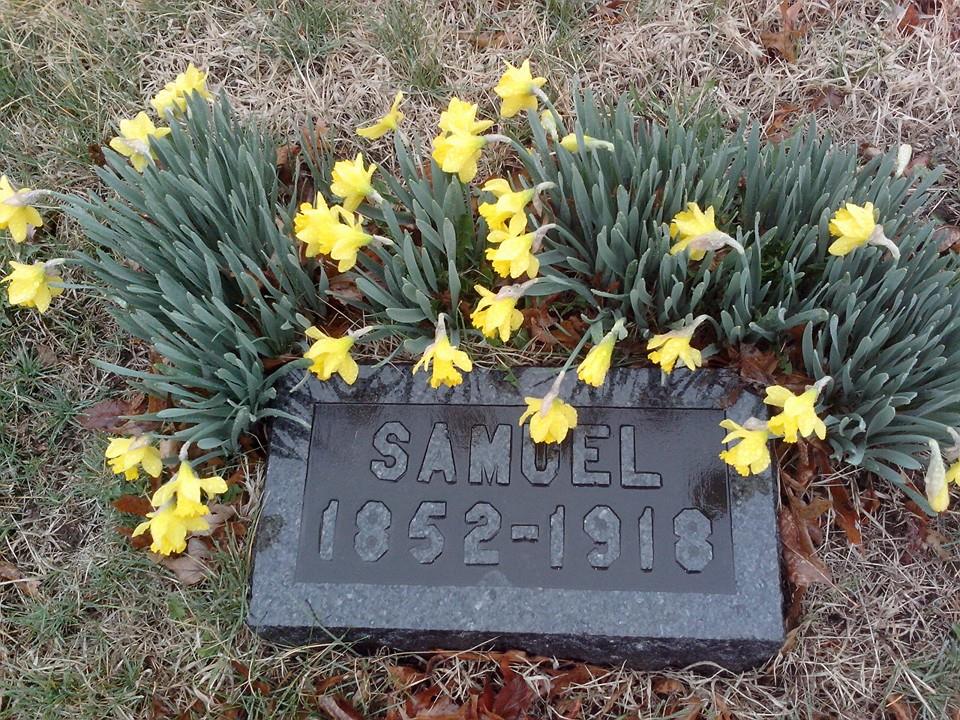 Join the Garden Club
The Friends of Historic Topeka Cemetery are organizing a garden club to help add beauty to the cemetery by planting and caring for several large garden plots and planters around the grounds.
Contact us here if you would like to be involved.
This will be a loosely organized group. Members may meet to plan garden spaces, or you can choose a spot to work on and just come by at your convenience.
Mausoleum Row has two large garden plots, and the area around the Garden Chapel has two areas that need to be developed.
You also can call the office at (785) 233-4132 for more information.
---
---
Points of interest
We consider ourselves an outdoor museum with hundreds of beautiful and interesting monuments! EXPLORE!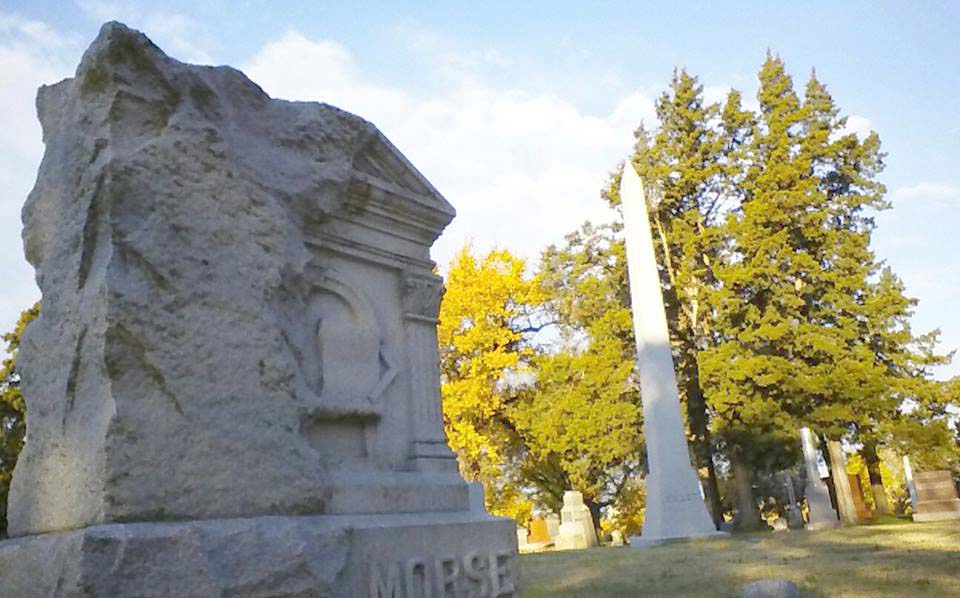 ---
Friends of Historic Topeka Cemetery
The Friends have a mission to support Historic Topeka Cemetery in its efforts to preserve its grounds and buildings, promote Topeka and Kansas history, and educate Topekans on the legacies created by their forebears – the extraordinary and the ordinary, the famous and the infamous, the entrepreneur and the artist.
The Friends offer tours of the grounds, the Seance in the Cemetery and Ghost Tours in October; and Memorial Day and Veterans Day programs.
The Friends also are working to memorialize the hundreds of infants buried at Topeka Cemetery who have no markers on their graves. A donation of $125 buys a 16×8 inch granite marker with the child's name and birth year. More information can be found on the Friends page.