Notables
"Hib" Case
Aderial Hebard Case (1828-1908) was the lawyer Topekans called when they were in serious trouble.
"As a lawyer he was to be feared from the first onset to the last shot fired. If an opponent unwarily had its attention distracted, he was a lost man," Case's friend J.G. Waters said in Case's eulogy in 1908. "In the heyday of his most vigorous career, his practice extended well over the state. The man in trouble hunted for Mr. Case."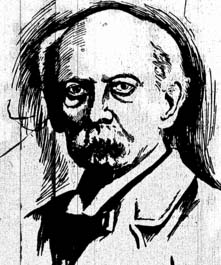 Case was born in Pennsylvania in 1928. He came to Topeka in 1859 after spending time on the road with Dan Rice's Greatest Show on Earth selling "tartaric lemonade and cookies as big as a cart wheel, all for 5 cents." He tried his hand at general merchandising, but after the panic of 1857 found himself washing dishes.
It was then that Case started reading the law.
In 1859, he and his wife, Helen Augusta Kiff (1836-1870), headed for Kansas. Topeka looked like the perfect place for a newly minted lawyer, so the couple settled in. He was a frontier lawyer, frequently traveling to clients in his early career. His reputation grew steadily, so when Case offered a young Charles Curtis the opportunity to work as his clerk and study the law, Curtis jumped at it. That was the first step of a career that would end in the pinnacle of the vice presidency of the United States for Curtis.
One of Case's clients was Curtis' father. Orin Curtis had signed a promise to pay, but Case never expected to see the money. When the younger Curtis found out about it, he insisted on making good on his father's IOU. Case tossed the note in the fire.
"If he had had a particle of greed in his composition he would long ago have been a very wealthy man," Waters said in Case's eulogy. "He did not have it. His heart mellowed at any story or distress. He gave when he should have kept, and then to ease his conscience he forgot the transaction."
Case also was a progressive for his time. His second wife, Lucia Ophelia Benton, was his law partner in the 1890s. She wasn't allowed to serve on a jury, but she had full court privileges as a member of the bar.
Buried with Case is his first wife. A memorial rests on the site for Lucia, who had her ashes scattered over the water in Hawaii. Case's son, Daniel, was appointed a federal judge in the Hawaii Territory, and the family's legacy continued there. One of Daniel Case's grandsons is Steve Case, who started America Online and led it for two decades.
Upon Case's passing: One of the mourners upon Hib Case's death was Hugh Cameron, known as the Hermit. Cameron lived alone in makeshift lodgings around Lawrence, Kan. – including at one time a tree house – and was said to have not cut his hair or beard for more than 30 years.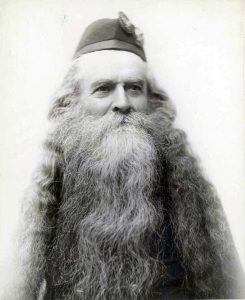 Cameron also was known for walking anywhere he wished to go. He boasted of long trips and was intending to walk to Washington, D.C., in March 1909 to see the inauguration of President Taft.
Cameron walked from Lawrence, about 25 miles, and arrived at the Case home the day before Hib's funeral. Mrs. Case welcomed him and gave him a bed for the night.
The following day, Cameron was found unresponsive in his bed. He was taken to Christ's Hospital, where he died on Dec. 9, 1908.The story of Cameron's death took up more than a third of the front page of The Topeka Daily Capital.
Cameron was at Lawrence at its founding. During the Civil War, he led volunteers out of Arkansas for the Union Army. He rose to the rank of lieutenant colonel and had a battlefield rank of general. He is buried at Arlington National Cemetery.