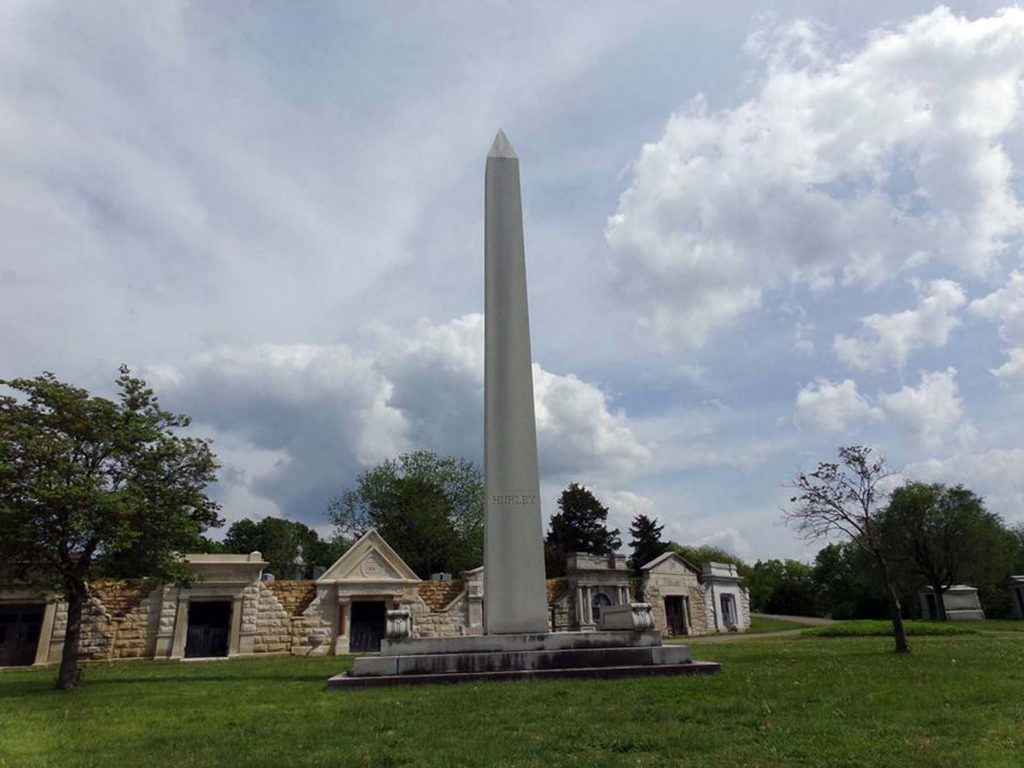 Mausoleum Row
The 10 mausoleums cut into the hill on the west side are the first part of Topeka Cemetery to receive National Register of Historic Places designation, both for their architecture and for the histories of those who had them built. Here is a brief description their namesakes:

Sherman
Built in 1891, the limestone structure belonged to Patrick Sherman, an executive of the Atchison, Topeka, and Santa Fe Railroad and a Topeka city marshal.

Reed
Also limestone, built in 1890. W.H. Reed purchased the plot in September 1890 for $210. Reed operated a furniture store. The first internment was 1895.

Stanton
Owned by Herman H. Stanton and built in 1887. Stanton was the owner of a pump manufacturing company in Topeka. If you peek inside, you will see an arched ceiling and a ceramic tile floor. Stanton owned the Palace Hotel in Topeka and others in various cities. He took over the Tefft House in 1880.

Burns
Ross Burns built his mausoleum in 1893. Burns was captain of the Topeka Battery memorialized on the Gage Monument for that unit's participation in the Civil War.

Redden
Owned by Judge A.L. Redden, this limestone structure was built in 1893. The first entombment was his brother, Dr. J.W. Redden, who had suffered many years with cancer. Dr. Redden's widow, Emma, later married Judge Redden. He died from accidental poisoning in 1905 and was interred in the mausoleum. Emma joined them in 1933. Judge and Emma Redden lived in the home at 11th and Topeka Boulevard that later was the residence of U.S. Sen. Charles Curtis.

Price
Margaret Davies Price owned this mausoleum, which is dated 1895. Built in the Victorian Romanesque style, it is made of limestone and rose granite.

Moeser
Edward H. Moeser purchased this mausoleum in 1896. It isn't being used, though family names are engraved on the doors of the individual compartments. Moeser and his brother, Philip, had a thriving cold storage business. Edward Moeser is buried in Section 58, and Phillip Moeser is buried in Section 66.

Horn
Charles W. Horn owned a planing mill, providing finished lumber for building projects. He won a seat on the city council in 1907. Also in the mausoleum are Elizabeth Horn, Charles' first wife, and Nellie Burns Horn, his second wife. The fourth occupant is Lucile Horn Sponable. Her relationship to Charles Horn isn't clear, but she lived with the family while attending law school at Washburn College. She obtained her law degree in 1926 and practiced in Topeka after graduation.

Crane
The Crane family operated Topeka Cemetery for its first 100 years. This mausoleum, which is about twice as deep as the others, was used for storage. Before backhoes, graves were all dug by hand, and during the winters, the ground often was frozen. Caskets would be stored in Crane until the spring thaw.
With dimensions of 30 feet by 15 feet, the Crane Mausoleum today serves as an event center and is the site of the annual Séance in the Cemetery. Several civic groups have used it for meetings preceding tours of the cemetery.

Mulvane
This mausoleum is the final resting place of Guy Junkin Mulvane, a medical doctor and surgeon; his wife, Josephine Hollis Mulvane; and their son, Paul Mulvane. Dr. Mulvane was a cousin to John Ross and Joab Mulvane, banker brothers who are buried in Sections 67 and 41, respectively. Joab Mulvane is the namesake of the museum at Washburn University.
A grant made it possible to restore three of the mausoleums in 2008 – Moeser, Redden and Price – but work is desperately needed on others, particularly Sherman and Reed. Grants for this type of work generally require 20 percent in matching funds; a little over $20,000 had to be raised to match the grant for the 2008 work.