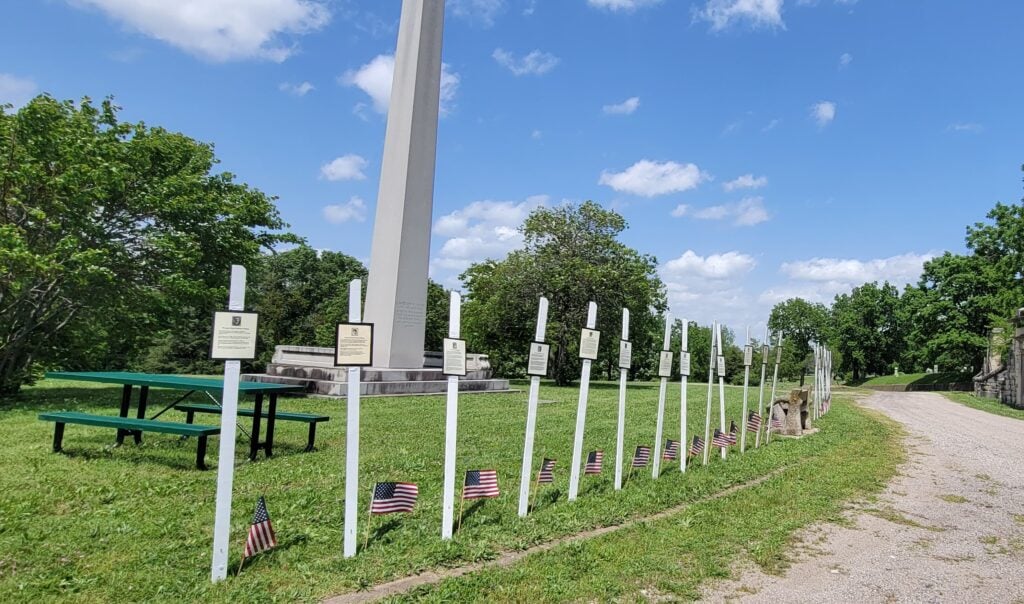 Remembering the Great War
Each Memorial Day and Veterans Day since 2014, Topeka Cemetery has placed memorial placards for those who died in service in World War I. Some never made it to France – they died during training, most often from the Spanish flu, which was far deadlier than the war. Those who fell in France were buried there. Some families had the means to bring them home, but those reinterments were done up to two years after the end of the war.
The memorial display is on Mausoleum Row through mid-June. Visitors can learn about 25 servicemen and one woman who gave their lives during the Great War.
Among them is John Akerstrom, who was injured during the last 24 hours of the war.
Newspaper reports described his final hours:
"The young man was taken, soon after he fell, to a field hospital, where he was kept for some time waiting to gain strength enough to be moved to a base hospital. He had wounds in his hand and the lower leg, the latter proving so severe that the leg had to be amputated just below the knee. He was too weak from loss of blood to survive the operation.
"A few days before his death the young man wrote to his mother (Anna Akerstrom in Topeka) telling her that he was recovering from his injuries, and that she had no cause to worry. A few hours after receipt of that message, a wire came from Washington, announcing the death of the young soldier. Letters from the Red Cross were later received confirming the news and telling of the closing hours of the young man's life, when his last words had been of his mother. His death came, the letter said, as the bugle was sounding 'Taps.'"
He was buried in the Suresnes Military Cemetery on a hill overlooking Paris. His remains were returned to the United States, and he was buried in Topeka Cemetery on Sept. 14, 1921.
Kenneth Sutherland was the first from Shawnee County to fall. As a youth, he embraced totally. He discovered radio in high school and devoted all his attention to learning about it. His plan was to become a radio engineer. But when the United States got involved in the war in Europe, "he was wild to go," his father said. His division, trained in trench warfare, was positioned on the front lines in the Vosges mountains in Alsace. Sutherland was killed July 30, 1918. He was the only child of Aurilla and Charles E. Sutherland. His remains were returned to Topeka and buried on June 4, 1921.
Charles Erickson, son of Ida and Alexander Erickson, was wounded Oct. 22, 1918, in the Argonne. The shrapnel proved toxic, and he also contracted pneumonia. He was eventually brought back to the United States and buried here Oct. 4, 1920, with his father, who died in 1914.
LeRoy Evans, son of Than & Ermine Evans, was killed in the occupation of Juvigny, France, on Aug. 31, 1918. His remains were moved from France and reburied here on Jan. 15, 1921. His parents moved back to their native Tennessee, and the space his parents owned next to him remains empty.
Aurie Fager was hit in the legs by machine gun fire on Nov. 2, 1918, near Barricourt, France. He died at the base hospital in the Vosges. His remains were returned and buried here on May 30, 1921. His parents, Charles and Emma Swanson Fager, are buried next to him.
Jesse Gilliland was exposed to gas and wounded at the beginning of the Argonne offensive. He contracted pneumonia in the base hospital and died Oct. 15, 1918. He left a widow, Ruby Ruth Laing Gilliland of Topeka, and his body was returned to the United States and buried here on June 11, 1921. Like Evans, he lies alone, but the two soldiers are just 20 feet apart in Section 82.
Theodore McNeeley took a direct hit from a shell when he was on the front line during the St. Mihiel Offensive on Sept. 16, 1918. His remains were returned to the United States and buried in the family plot on July 23, 1921. His parents were Frank and Alice Jane Reeder McNeeley. His widow was Flenora Coleman McNeeley, and she was buried with him in 1964.
William Swan was an infantry mechanic and was shot during action at Fleury, France. It took almost a full day to evacuate him to the field hospital, where he died on Christmas Eve 1918. His parents, Clara Davidson and Hamilton Swan, had his body brought home and buried here on Oct. 18. 1921.

Still in France
Also honored in the display, but still buried in France, is Henry Murphy Walsh. His father, DeWitt Walsh, had a granite obelisk installed in the family plot to honor Henry, who was killed in the Battle of the Argonne on Sept. 27, 1918. Henry was a runner – one of the soldiers who carried messages from command at the rear to the front lines. It was the most dangerous assignment of the war, as they had to make their way alone through the fighting. The monument, which is on the road in Section 36, honors "every runner that lost his life in service to the (American Expeditionary Forces)."
Philip Billard also remains buried in France. He went to Europe hoping to be a fighter pilot, but his experience with airplanes was deemed better used to train new pilots. Billard was one of the first Kansans to take to the skies, learning to fly in 1912. He set early records for speed and height.
In addition to training pilots, Billard also was responsible for repairing planes damaged in battle. He would give them a test flight before they went back into service. On his last flight, a sergeant went up with him, and they did several loops in the air, then dove, nose down with the throttle wide open, into the ground. Speculation was that the loops caused the sergeant to faint and slump into the controls at his seat, making it impossible for Billard to control the plane from his position. The date was July 25, 1918.
In 1927, Philip's father, former Mayor J.B. Billard, announced he would be providing an airfield for commercial use in Topeka, and it would bear his son's name.

A more deadly enemy
Some of the young soldiers never made it out of training camp.
Camp Funston at Fort Riley was the starting point for most Kansas enlistees. Ralph Doidge, son of Jennie Wilson and Alfred Doidge, caught the flu there and died Oct. 13, 1918. His widow, Edna Alma Linn, remarried, but she was buried next to him 50 years later.
Robert Melton died from flu the same day as Doidge at Camp Funston. His parents were William and Anna Rigdon Melton, who lived at Tecumseh.
Frederick Joseph also died from flu at Camp Funston on Oct. 14, 1918. He was buried with his parents, Julia Christie and Abraham Joseph, in the Jewish Cemetery.
Frank Pavey died at Camp Funston, but of measles and tuberculosis on Dec. 7, 1918. His parents were Rilla Newman and John A. Pavey. He was first buried in the Linn Creek Cemetery in Shawnee County and moved to Topeka Cemetery in 1932 to be next to his mother.
The Spanish flu claimed Floyd Bailey, son of William and Mary Bailey, at Camp Grant in Illinois.
Navy seaman Kenneth Barber succumbed to pneumonia brought on by the flu while he was training in Hampton Roads, VA.
Foster Redmond Bradfield was a draftee training in the camp surgeon's office at Camp Meade, MD. He caught the flu and succumbed to the pneumonia that followed. His parents were Sarah Ellen Knight and S.A. Bradfield.
Virgil J. Eaton, son of Cordelia and Frank M. Eaton, was training at Fort Miley in San Francisco when the flu took him.
William Klinge was training at Brooks Field in Texas when he contracted pneumonia. He died Jan. 24, 1919. The son of Auguste and William Klinge, he was buried next to his father, who died in 1914. His mother joined them in July 1919.
Albert Thompson Jr. was in training at San Antonio when he was found to have oral cancer and died on July 16. 1919. His parents were Albert and Alice Thompson.

Surviving gunfire, but not the war
Fred Lloyd Jones contracted the flu aboard ship on his way back from fighting in France. He was treated at an Army hospital in New Jersey, where they operated on his lungs three times. He was moved to an Army hospital in Illinois and died during a fourth surgery in August of 1919. He was the son of Melita Jones and Richard R. Jones.
Fay Sara Friedberg signed on with the Casualty Division of the Adjutant General's Office in Washington, D.C., in the summer of 1918. The armistice had been signed before the flu struck her before she could make arrangements to return home. Her mother, May Freidberg, was able to get to Washington to be with her, but Fay died on Dec. 30, 1918. Her father was Samuel Friedberg. They are buried in the Jewish Cemetery, which is just north of Sections 69 and 70.
The flu was as virulent in France. William Henry Cummickel, a private with the 7th Division's ammunition train, died from the flu in a base hospital near Toul. His remains were returned from France and buried here on Sept. 2, 1920. His parents were Charles Warren and Olive Eugenia Crane Cummickel.
Harold Olson was deployed in France when he contracted spinal meningitis. He died Oct. 14, 1918, and was buried in France. His remains were returned to the United States and buried here Nov. 13, 1920. He is in the family plot with his parents, Peter and Ellen Mathilda Olson.
Lyman Rice died Oct. 8, 1918, in Limoges, France. The cause was dysentery complicated by pneumonia. His parents, Cornelia and Samuel J. Rice, had his body retrieved from the French cemetery and interred here on Jan. 8, 1921.
Ernest Moneypenny was the victim of an accidental shooting at Atlier, France, on June 18, 1919. His body was returned from France and buried here on April 24, 1922. He was the son of John Marshall and Eunice Moneypenney.